Article written by CJC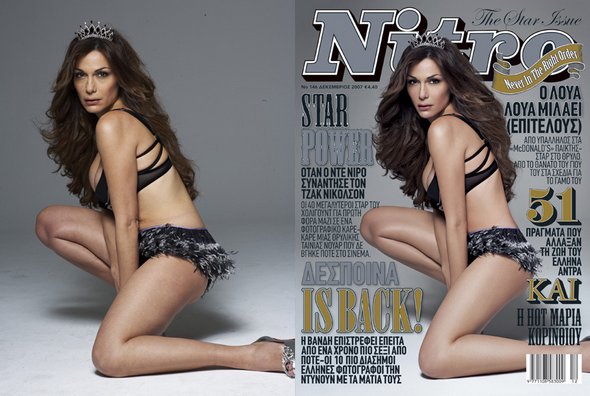 Changing our appearance in the weirdest and most eccentric ways has been a part of life for as long as anyone can remember, people have used make up since we could see our own reflections. Are we born vain or is it because of society around us that dictates us to act this way? From the emergence and acceptance of plastic surgery to the digital age, where people post edited pictures of themselves on social media.
Just give it a thought; it has been this way for such a long time, to such extents that it seems crazy. When browsing through pictures online or anywhere as a matter of fact, we now always have a thought in the back of our heads telling us that in this day and age Photoshop is more than capable of making a person look much better than they do in real life.
Just think of the countless instances wherein the unedited pictures of a celebrity's pictorial would leak on the web. The changes can vary from slight retouching of skin tones to complete makeovers where the photographer is required to perform digital liposuction, digital nose jobs and the like.
Photographers are sometimes tasked to perform the impossible, this though is just a figure of speech, because with the right tools and skills, any talented photographer can cut, edit, mask and manipulate anybody's picture to make him or her look like a star.
For a good example of what I am ranting on about, go to your closest news stand and pickup any magazine, have a look at the advertisements, and I assure you that 100% of all the pictures there are edited, and not just a little bit, I am talking about complete overhauls.
Every male model featured will have the chiseled face of Brad Pitt and the body of an Olympic swimmer, for their female counterparts, we will see voluptuous Victoria's Secrets model bodies and the visage of Angelina Jolie. For this amount of editing and manipulating I am surprised that photographers are not paid as much as practicing plastic surgeons, take it from me, the amount of hours put into editing a picture of a pig to look like Miranda Kerr can add up very fast.
In my opinion, photographers are the digital plastic surgeons of our society. Without talented photographers and digital artists, 90% of the images you see around you would be bland, mundane and at times even a little scary.
Even today's celebrities have their off days, where they will need a photographer to get rid of the dark rings under their eyes. This is just a small adjustment where the photographer either uses a flash technique to fill in the shadows or he blends the colors in Photoshop to conceal the specific area, but imagine a world where all pictures would be presented as is, no editing, tweaking or the like. I am certain that a lot of models and celebs would lose their jobs in an instant.
So if you are a photographer give yourself a pat on the back for doing what you do best, and if you aren't a photographer but you know someone personally who is, well thank him or her for making the images we see daily more bearable.
Note: Photo from http://www.chilloutpoint.com/images/2010/08/celebrities-before-and-after-photoshop/celebrities-before-and-after-photoshop-12.jpg